Best Wind Surfing Places in Turkey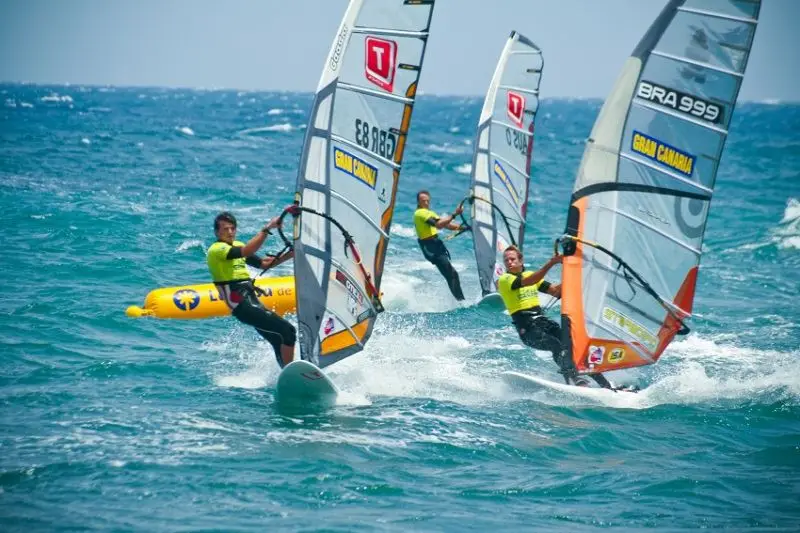 Catching the Wind in Turkey: Wind Sports
A little bit of excitement is good for the soul. For far too long, you have lain in the sun sipping your drink; now is the time to rise and witness something truly extraordinary. In Turkey's top wind sports destinations, you can let the wind carry you away. Windsurfing and kiteboarding are just two of the extreme sports you can try in Turkey. The country's kilometers of coastline, variety of winds, and calm, clear waters in mild winters make for ideal wind and sea conditions. The wind is so strong, it will knock the air out of you. Now is the time to learn about all the different kinds of wind sports there are and the best places to go if you want to try them!
Windsurfing
Windsurfing, a form of wind sport that takes advantage of both the sea and the wind, is extremely popular in Turkey. It's the practice of remaining calm and in control while out at sea. In the summer months, Turkey's Aegean coast, which is always exposed to strong and favorable westward winds, makes for excellent windsurfing. The islands and bays make for many ideal windsurfing locations, complete with facilities for the sport.
Alacati
Alacati, on the Izmir Peninsula, is the most well-known windsurfing spot in Turkey. Despite being discovered relatively recently, it has rapidly surpassed all other choices. The locals have dubbed Alacati a "windsurfer's paradise" because of the bay's sheltered location and the smooth curve of the coastline. Additionally, it offers an ideal environment, making it a great spot for surfers of all skill levels. It's also easy to find a reputable surfing club or school in the area to take lessons from experts. Plus, it's a great place to windsurf if you're a beginner and want to learn the basics and get better fast.
Bodrum
Bodrum has an undeniable allure due to its enticing combination of a pleasant year-round climate, clear blue waters, bustling marinas, and upscale tourism. And if you're into windsurfing, this is a fantastic place to go! Ideally, you'd want to be near Turgutreis, Akyarlar, and Kadikalesi. The peninsula is home to some of the country's most consistent and powerful winds. Take some lessons if you like, and in the meantime, watch the local pros sway to the music.
Akkum
Beautiful windsurfing beaches can be found in Akkum, which is situated in a sizable bay near Izmir. Windsurfing enthusiasts will find the Aegean Sea to be a fantastic destination thanks to the region's reliable thermal winds that blow westward along its entire length. Akkum is an excellent destination for those in search of turquoise waters and a high level of excitement. You can expect to have plenty of opportunities to go surfing during your trip thanks to the summer's thermal winds.
Kiteboarding
Maybe all you need is a windy adventure to recharge your batteries! Kiteboarding, which combines surfing and kitesurfing, is a fantastic extreme sport that will give you some incredible experiences. Keep your kite steady and enjoy a relaxing ride across the shimmering waters of Turkey. Kiteboarding is a popular pastime in Turkey, and although it can be done at any time of year, the summer months see the greatest influx of both foreigners and locals to the country's Aegean and Mediterranean coasts to enjoy the sport.
Gokova
Gokova Bay, in Turkey's Mugla Province, is known for its clear, warm waters. Because of the bay's size (roughly 3 km), there's room for all of the kiteboarders to have fun. Surfers have access to clean, consistent winds thanks to the daily afternoon and noontime thermal winds. The water's shallowness allows for some extremes to be added to the mix. Gokova Bay is an ideal place to get your feet wet freestyle and freeride.
Urla
If you want to get into kiteboarding, Urla is a great place to do so. placed in the province of Izmir. Those looking for a top-notch kiteboarding experience will find that the natural setting and consistent winds here more than deliver. Private kiteboarding lessons and schools are also commonplace. Unwind on the beach and take in the fiery sunset after a day of fierce winds. When you're ready to unwind, head into town to enjoy Urla's many cafes, bars, and restaurants.
Antalya
There are some of the best kitesurfing conditions in the country in Antalya because of the city's extensive Mediterranean coast. Kiteboarding is at its best between the months of October and March because of the consistent winds. Joining one of the local kiteboarding groups is also a great way to hone your riding abilities. Antalya is the center of tourism in the Mediterranean, so after your swim, you can do a lot of other things.
Adventures on the High Seas
When sailing, one must master the art of steering a boat by harnessing the wind's force and following its course. To those with a sense of adventure, I highly recommend it! Get out on the water, visit some new islands, and learn about the lesser-known nooks and crannies of the Turkish Riviera. Gocek, Fethiye, Marmaris, Cesme, and Bodrum are some of the best places to visit for a one-of-a-kind sailing adventure. In addition, the sailing season in Turkey is exceptionally long, stretching from early April to the beginning of November. We guarantee that you will never forget or regret taking this incredible trip, which continues even in the dead of winter.
Luxury Tours of Turkey
Ι Luxury Turkey Tour Package Ι Luxury Istanbul and Cappadocia Tour Ι Luxury Cappadocia Tour from Istanbul Ι Luxury Discover Turkey Tour Package Ι Luxury Istanbul and Ephesus Tour Ι Luxury Istanbul and Bodrum Tour Ι Luxury Istanbul Ephesus Pamukkale Tour Ι Luxury Discover Turkey Tour Ι Luxury Istanbul Tour Package Ι Luxury Discover Istanbul Tour Ι Luxury Istanbul and Antalya Tour Ι Luxury Istanbul Tour Ι
Luxury Turkey Travel Services
Ι Luxury Turkey Travel Services Ι Luxury Airport Transfer in Turkey Ι Luxury Istanbul Chauffeured Car Service Ι Tour Guide in Turkey Ι Istanbul Helicopter Tour Service Ι Luxury Istanbul Yacht and Charter Service Ι Turkey Private Jet Flight Service Ι
Luxury Daily Turkey Tours
Ι Luxury Daily Turkey Tours Ι Luxury Istanbul Old City Tour Ι Luxury Istanbul Bosphorus Cruise Ι Luxury Princes Island Tour Ι Luxury Self Guided Tour Istanbul Ι Luxury Cappadocia Tour from Istanbul Ι Luxury Ephesus Tour from Istanbul Ι