Turkey Canyons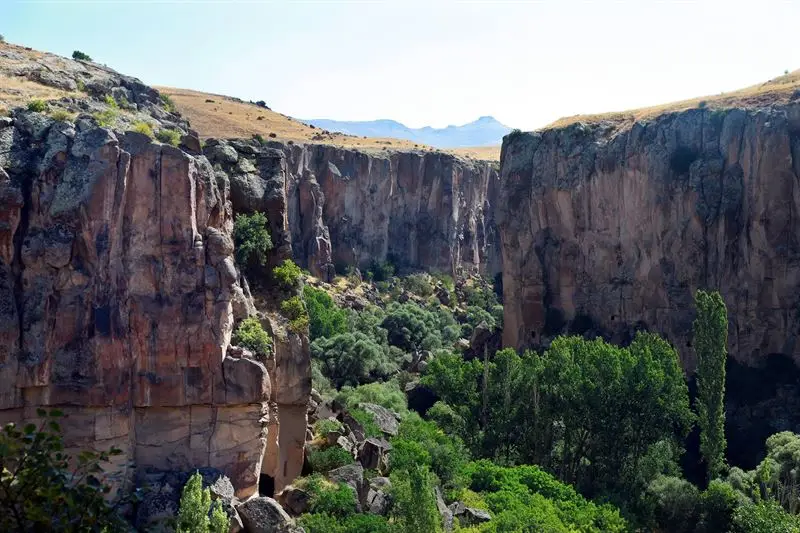 Exploring the Natural Wonders of Turkey's Stunning Canyons
Turkey, a land of rich history and diverse landscapes, is not only known for its historical treasures but also for its breathtaking natural wonders. Among these hidden gems are its stunning canyons, each unique and shaped by the forces of nature over millions of years. In this article, we will take you on a journey through some of Turkey's most remarkable canyons, inviting you to explore their natural beauty and experience thrilling outdoor adventures.
Ulubey Canyon: Where Nature Reigns Supreme
Nestled in the regions of Ulubey and Karahalli in Usak, Ulubey Canyon stands as the world's second-largest nature park, trailing only behind the renowned Grand Canyon in the United States. This canyon has evolved into an ecotourism hotspot, thanks to its rich biodiversity. It offers a perfect setting for camping and various outdoor activities.
Embracing Nature's Bounty
Ulubey Canyon boasts an array of attractions within its vicinity, including the Cilandiras Bridge, the rock-cut tombs of Durakli, monuments at Haskoy, the ruins of Pepuza and Blaundus, and Salma Creek. Adventurers can indulge in rafting on Banaz Creek, nestled within the canyon's embrace, or partake in the exhilarating experience of rock climbing on its formidable cliffs.
A unique perspective
For those seeking a different perspective on the canyon's breathtaking scenery, a glass platform offers a bird's-eye view of the pristine landscape below. Additionally, a spacious 302-square-meter café beckons visitors to relax and savor the beauty that surrounds them.
Valla Canyon: Nature's Grand Sculpture
Located in the Pinarbasi neighborhood of Kastamonu, Valla Canyon is rumored to be the world's second-deepest canyon. Its awe-inspiring landscape makes it a haven for outdoor enthusiasts who relish rock climbing and hiking.
A natural masterpiece
The Devrekani Creek's relentless erosion of the Kure Mountains has sculpted a magnificent natural formation that captivates the senses. Valla Canyon is renowned for its diverse wildlife, including majestic birds of prey like eagles and vultures. To preserve this natural wonder, specific areas are designated for sports and trekking, while entry to the rest is regulated.
Don't miss the viewpoint.
Much like Ulubey Canyon, Valla Canyon boasts an observation deck that offers panoramic views of the surrounding beauty, providing a unique opportunity to immerse oneself in nature's grandeur.
Ihlara Valley: A Journey Through Time
Nevsehir's Ihlara Valley, situated near Mount Hasan and Mount Melendiz, once served as a dwelling for over four thousand people and numerous cave churches. Given its location in the Kapadokya region, renowned for its remarkable rock-hewn architecture, this historical significance is hardly surprising.
A Scenic Hike
Hiking through Ihlara Valley is a feast for the senses, with vineyards, poplars, and pistachio trees adorning the landscape. The melodious sounds of the Melendiz River accompany your stroll. The valley is also home to cave churches adorned with breathtaking frescoes, a testament to its rich history.
Culinary Delights
After a day of exploration, satisfy your appetite at one of the restaurants near Belisirma, which offers a diverse range of dishes to rejuvenate your spirits.
Saklikent Gorge: The Hidden Treasure
Situated in the city of Mugla, Saklikent Gorge is rapidly gaining popularity among sightseers. It ranks among the deepest canyons on Earth, with depths of up to 30 meters. Its dramatic cliffs, cascading waterfalls, and 16 mesmerizing caves make it a must-visit destination.
Journey into the Abyss
To enter this natural park, you'll cross a bridge, and as you venture deeper, you'll be greeted by the awe-inspiring chasm, shrouded in shadow due to its towering cliffs and sculpted walls. In Turkish, the city is aptly named "Saklikent," which translates to "hidden city."
Exploring the Vicinity
Nearby, you can explore the Tlos ruins, a testament to the region's rich history, and savor a meal at one of the fresh trout restaurants. These dining establishments perch on wooden platforms that extend over the river, elevating even a simple meal into an unforgettable experience.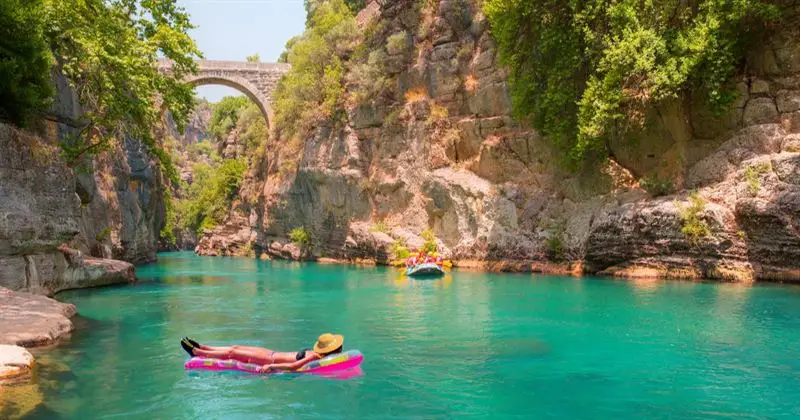 Koprulu Canyon: Adventure Awaits
Koprulu Canyon, located along the Kopru River, attracts thrill-seekers seeking the adrenaline rush of rafting. This canyon is also home to Koprulu Canyon National Park, ensuring a safe environment for outdoor adventures.
A Natural Haven
Koprulu Canyon National Park boasts a rich diversity of flora and fauna, including pine, black pine, cedar, fir, and oak trees. It's also home to endemic and endangered animal species, making it a sanctuary for nature enthusiasts. The park encompasses a portion of the St. Paul Trail and the ruins of the ancient city of Selge, adding historical significance to its natural allure.
Karanlik Canyon: The Thrill Seeker's Paradise
The Karasu River, also known as the Munzur, carved a narrow gorge known as Karanlik Canyon, which is Turkish for "Dark Canyon," close to Erzincan. This canyon is renowned among water sports enthusiasts and is recognized as one of the top 10 European canoeing routes.
A Challenge Awaits
Navigating the rugged terrain of Karanlik Canyon presents a thrilling challenge for those who seek adventure. Some of the routes are even more daring than the infamous Guoliang Tunnel in China.
Arapapisti Canyon: A Tri-Province Wonderland
Arapapisti Canyon spans across the provinces of Aydin, Denizli, and Mugla in southwestern Turkey. The Incegiz Canyon boat tours provide an excellent opportunity to escape the urban hustle and embrace nature.
A Gift of Nature
The Akcay River's relentless flow carved this canyon, contributing to the local economy and creating a haven for unique wildlife, including eagles, wild goats, and wild boars.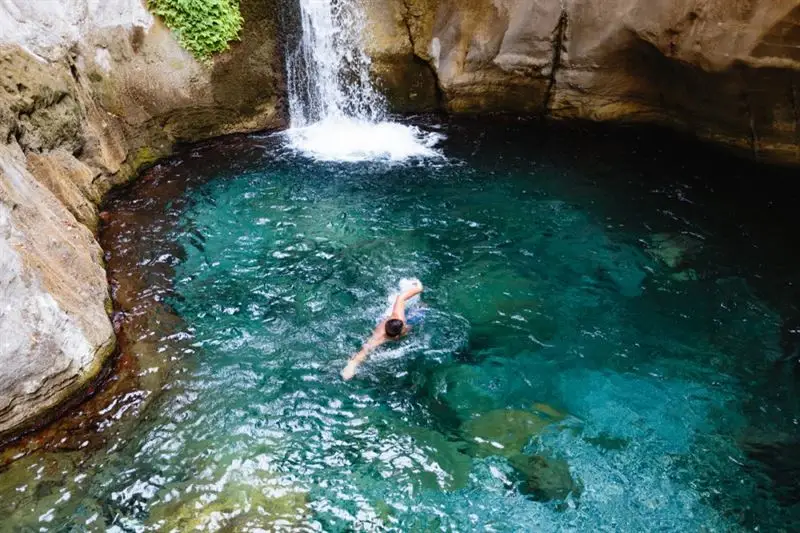 Sapadere Canyon: A Cool Oasis
Sapadere Canyon, located 40 kilometers east of Alanya in Antalya, offers a refreshing escape with its waterfall and crystal-clear pools, inviting swimmers to embrace its cool waters.
A Day in Paradise
A walk through Sapadere Canyon unveils the village's beautiful water mill and silk-weaving ateliers. Don't forget to savor the delicious fresh trout at one of the area's restaurants, especially during the scorching summer months.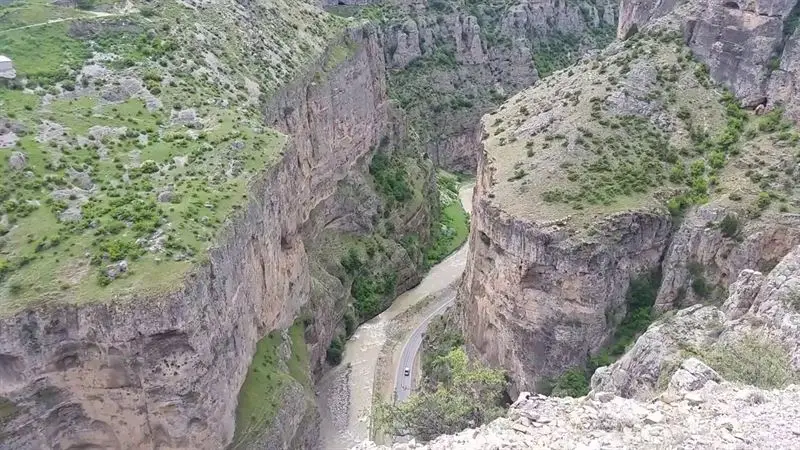 Cehennem Deresi Canyon: Nature's Marvel
Cehennem Deresi, nestled in Turkey's Black Sea region in Artvin, is one of the world's few canyon valleys. This national park features wooden stairs, adding an adventurous twist to your exploration.
Conquer the Heights
Famous for being the second-highest canyon globally, Cehennem Deresi offers opportunities for hiking, climbing, and various outdoor activities. It's a paradise for adventurers seeking thrills.
If you want to book a luxury tour of Turkey or luxury Turkey tour packages, just click the link.