How To Make Turkish Tea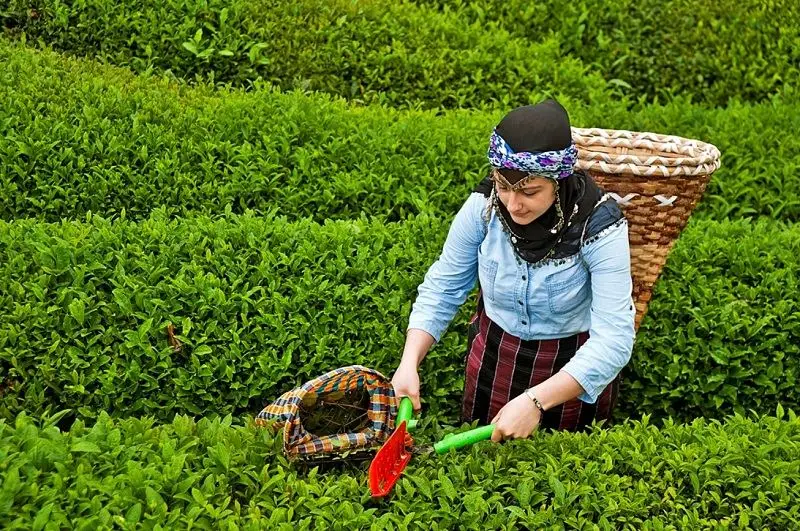 Tips on Making a Cup of Turkish Tea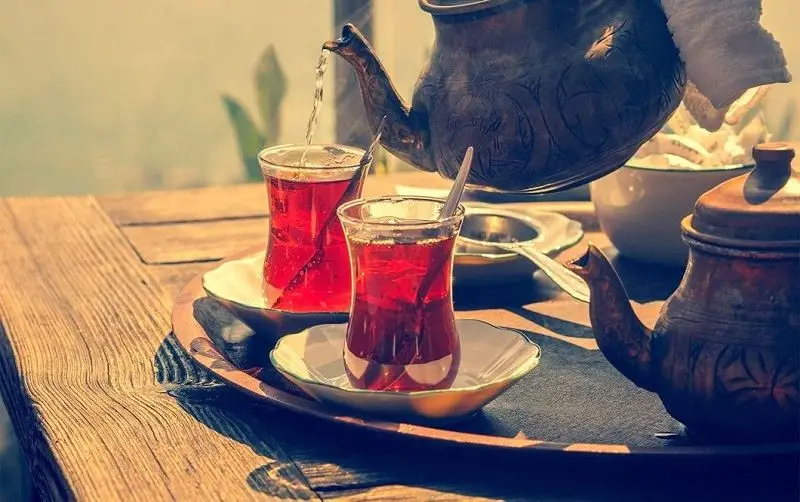 It is no longer frowned upon to drink Turkish tea from the traditional tulip-shaped glass. Turkish tea is served with meals and snacks from dawn until dusk, and it is a staple of Turkish culture.

In the Turkish Houses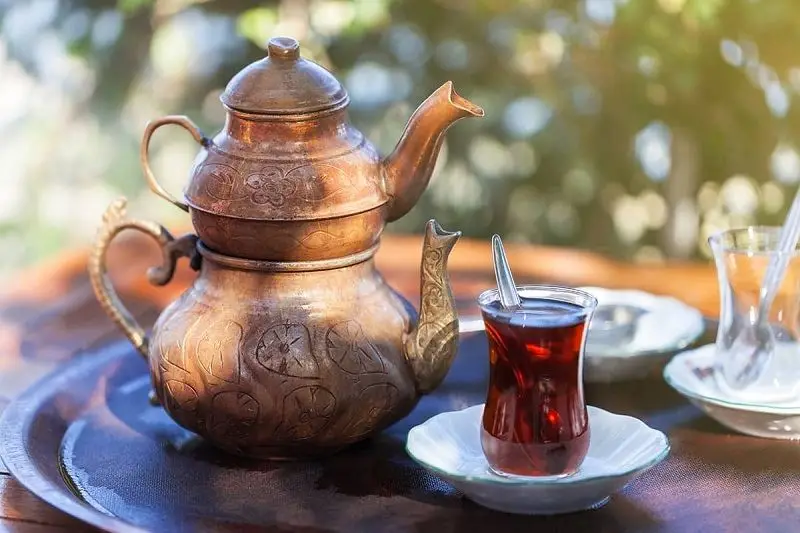 In Turkish homes, a teapot is always ready to be heated and served to guests. It's not unusual for us to take a break from our work to relax and refuel with tea at "Cay ocagi," which translates to "tea house." So, it's not out of the ordinary to see a young boy rushing through the crowd with a silver tray bearing small, tulip-shaped glasses of Turkish tea.
To make it easier for you to be a foreigner in Turkey, we've put together a silver tray full of information about the tea culture there.
The first requirement is the traditional teapot, known in Turkey as a caydanlik, which consists of a large metal container and a smaller one that stands above it. Tea is brewed in the smaller part, while additional water is boiled in the larger part.
Next, decide how you want to go about creating it. We offer two options; to find out which one best suits your taste, we suggest trying both.
The first method, which is the most common, involves boiling the water and then brewing the tea. Let's take it slow and easy!
Set the larger pot atop a sink and fill it with water. Bring to a boil in the oven over medium heat. Suggested Action: Put some tea leaves in the smaller pot (we recommend going by an eyeball estimate). The boiling water should be poured over them. The larger pot needs some water. When the water in the larger containers has boiled for a second time, place them together and keep them in the oven on medium heat. Turn the heat down to its lowest setting and let it simmer for 10 to 15 minutes once the water has begun to boil.
The alternative, much less typical method involves brewing the tea while the water is boiling. Even though we insist that you try both methods and pick your favorite, this one takes a lot more time than the first.
A teapot should be filled with tea leaves. Just pour some liquid on top. Set the larger pot atop a sink and fill it with water. Combine them and bake them at 350°F. To heat the mixture in the smaller pot, we will use the steam from the larger pot. When the water reaches a gentle simmer, turn the oven temperature down to its lowest setting. Wait for 10 to 15 minutes before drinking, and that's it!
The length of time the tea is allowed to brew is also crucial when making Turkish tea. Waiting will give it a deeper red color and a more bitter flavor. It's the style most favored by Turks who drink tea, though a brighter hue might win over newcomers.
Keep as far away from tea bags as you can. The use of prepackaged tea in bags is looked down upon by many who appreciate the subtle flavor of loose-leaf tea. If you want it quickly, why risk quality by skipping the brewing process?
It is now tea service at our establishment. The question now is, "What?" The way Turkish tea is served is also considered to be part of the ritual.
Just fill a quarter of your glass with brewed tea and sip away (this is the conventional measure, though you could customize it depending on your interest). After that, you're supposed to pour the boiling water into the rest of the cup. Over time, you'll develop a feel for how much-brewed tea to pour into a glass; the less tea you use, the paler your beverage will be (and vice versa). However, be patient.
So, Be Patient
The traditional tulip-shaped tea glass is recommended, as it is more comfortable to hold due to its narrower middle. It's smaller than a standard cup, allowing more time to drink the tea before it cools. True tea connoisseurs, however, use only the traditional teacup.
Try the tea first without sugar, then add the cubes. Tea is typically served with sugar cubes, but you are under no obligation to use them.
Last but not least, some of us prefer our tea without floating leaves. So, to avoid this, we use a tiny sieve or tea strainer.
Luxury Tours of Turkey
Ι Luxury Turkey Tour Package Ι Luxury Istanbul and Cappadocia Tour Ι Luxury Cappadocia Tour from Istanbul Ι Luxury Discover Turkey Tour Package Ι Luxury Istanbul and Ephesus Tour Ι Luxury Istanbul and Bodrum Tour Ι Luxury Istanbul Ephesus Pamukkale Tour Ι Luxury Discover Turkey Tour Ι Luxury Istanbul Tour Package Ι Luxury Discover Istanbul Tour Ι Luxury Istanbul and Antalya Tour Ι Luxury Istanbul Tour Ι
Luxury Turkey Travel Services
Ι Luxury Turkey Travel Services Ι Luxury Airport Transfer in Turkey Ι Luxury Istanbul Chauffeured Car Service Ι Tour Guide in Turkey Ι Istanbul Helicopter Tour Service Ι Luxury Istanbul Yacht and Charter Service Ι Turkey Private Jet Flight Service Ι
Luxury Daily Turkey Tours
Ι Luxury Daily Turkey Tours Ι Luxury Istanbul Old City Tour Ι Luxury Istanbul Bosphorus Cruise Ι Luxury Princes Island Tour Ι Luxury Self Guided Tour Istanbul Ι Luxury Cappadocia Tour from Istanbul Ι Luxury Ephesus Tour from Istanbul Ι