Mediterranean Food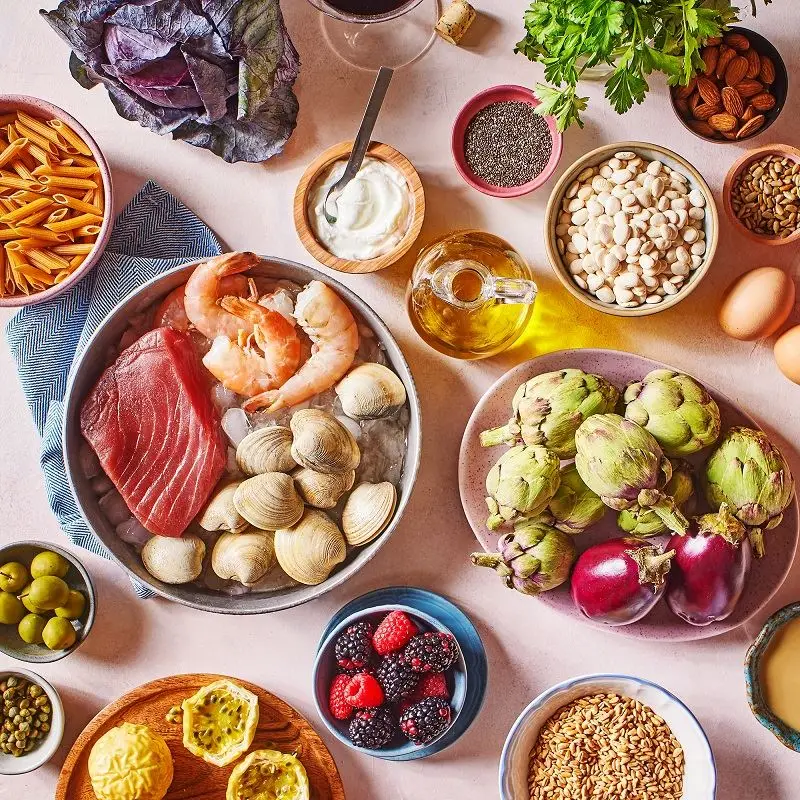 The Health Benefits of the Mediterranean Diet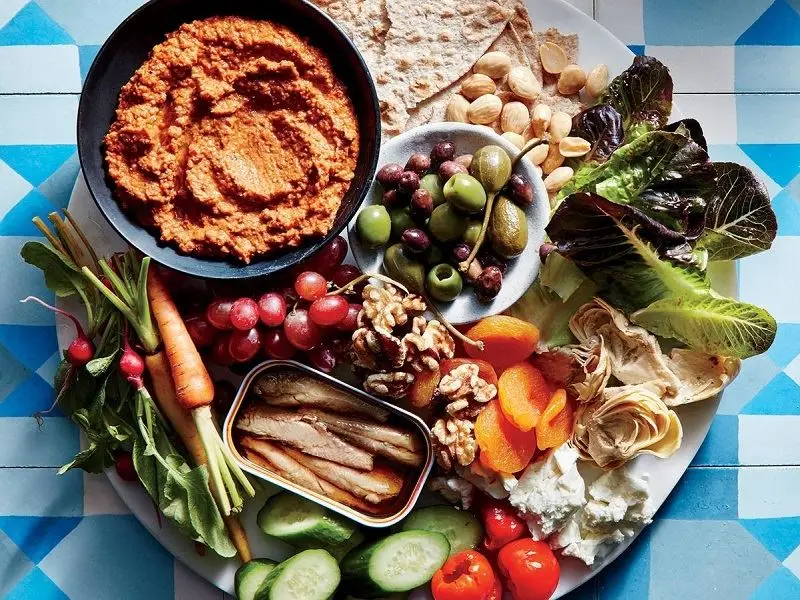 The majority of Turkish dishes use seasonal, fresh ingredients, which by nature make them healthy.
The aromatic herbs and spices used to prepare Turkish food are not only delicious but also beneficial to your health. They help reduce cholesterol, flush out toxins, and strengthen the immune system.
The use of fresh, local ingredients is what sets Mediterranean cuisine apart, and it's what makes its dishes filling without being cloying. The climate and soil are ideal for growing a wide variety of high-quality fruits and vegetables, including olive oil and spices. All of these elements contribute to a balanced and interesting diet. Different cities have unique spice blends and olive oils.
Turkey is home to an abundance of seafood and meat dishes, as well as numerous vegetarian options based on the abundant local produce of the Aegean and Mediterranean coasts. Most appetizers come first, before the main course. Meze is the generic term for these small plates.
Placed in the middle of the table, they are eaten slowly while drinking raki, a popular alcoholic drink in the area.
There are many types of meze, but some of the most well-known are:
Roasted Eggplant Salad (Patlican Salatasi)
Vine Leaves Stuffed (Dolma)
Hot Pepper Relish (Acili ezme)
Artichokes (Enginar)
Tempered Yogurt (Haydari)
Herbs with Healing Properties
Some very unique herbs come from Anatolia. These herbs are only found in the Aegean, and their distinctive flavors are widely incorporated into regional dishes. Some claim to have therapeutic or preventative effects on health.
Ebegumeci – Mallow
Mallows are members of the Malvaceae plant family, which also includes cotton, okra, and hibiscus. They grow in the wild in Turkey and the Aegean region. This plant can be eaten after being prepared in olive oil. Its leaves have been used medicinally for centuries as a poultice to treat wounds and reduce swelling. People with boils or cysts on their skin swear by the leaves' ability to help draw the infection out of the skin.
Arapsaci – Fennel
At first glance, arapsaci might look like dill, but it tastes very different. The seeds, leaves, and stems of the arapsaci plant are all edible. Like many other Aegean wild herbs, this one is commonly prepared by sautéing it with olive oil and onions. It is frequently used in lamb dishes and boreks.
Turp Otu – Radish Leaves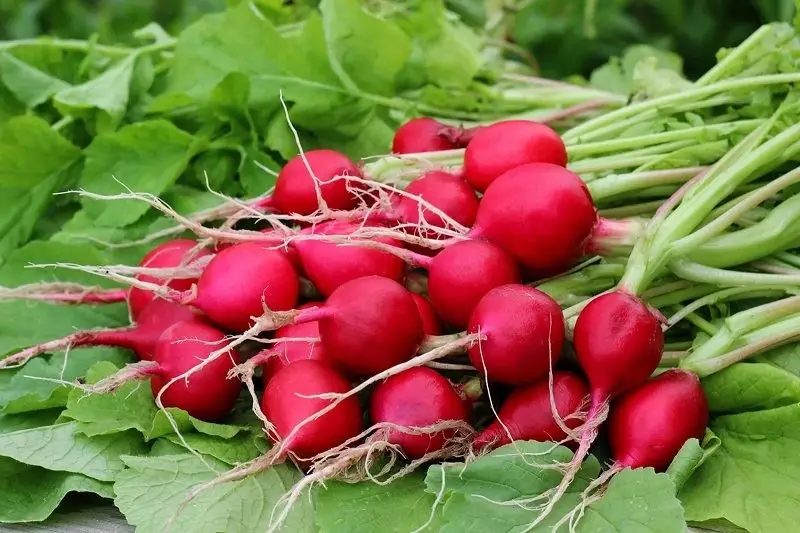 The leaves of the radish are delicious and nutritious, packed with flavor and healthy vitamins and antioxidants. Radish leaves are popular in the Aegean region, where they are prepared in a variety of ways and eaten raw in a salad with garlic and yogurt or scrambled with eggs. Why not put the locals' claims that radish leaves are good for kidney and liver health as well as the treatment of rheumatism, asthma, and breathing difficulties to the test?
Deniz Borulcesi – Samphire
The Turkish coast is rich in samphire deposits. Nothing says "summer" like this tasty sea vegetable served as a meze and prepared simply in olive oil with fresh lemon juice. The abundance of iodine in samphire is very beneficial to thyroid health.
Sevketi Bostan – Blessed Thistle
This plant, which is found in January, goes by several different names. This versatile herb goes well in salads, on the grill, and in the oven. In all of Turkey, lamb with blessed thistle is a popular dish. People in the area often turn to a blessed thistle when they're having trouble with their kidneys or stomachs.
Kuzu Kulagi – Green Sorrel
Despite its sour flavor, the detoxifying herb-vegetable Kuzu Kulagi is a popular choice amongst health-conscious individuals. Vitamins A and C, as well as other minerals like calcium, potassium, magnesium, and phosphorus, can be found in relatively high concentrations in this powerful herb. Juicing the leaves and stems is thought to be a kidney cleanser and diuretic, and traditional uses include drinking tea made from the leaves to reduce fever and inflammation.
Radika – Dandelion
Radika is widely consumed due to its beneficial effects on health. There are a variety of ways to prepare the leaves for consumption, including eating them raw, cooking them, drying them, or steeping them. As with mustard leaves, radika leaves have a similar effect when used in cooking. Although slightly bitter, the young leaves and buds are often eaten raw and make a great addition to soups and salads. Vitamins A and C, as well as iron, calcium, and potassium, can be found in abundance in the plant's leaves and stalks.
Isirgan – Nettle
One of the earliest medicinal plants identified was isirgan, also called dalagan or dalan. Isirgan's leaves and roots have been used for centuries in both mainstream and alternative medicine. As a form of natural defense, the herb's leaves have tiny spikes that can be painful if handled without gloves. Brewing the leaves into tea is a common practice, as many people use it to treat respiratory infections, the common cold, gastrointestinal issues, and even measles.
Luxury Tours of Turkey
Ι Luxury Turkey Tour Package Ι Luxury Istanbul and Cappadocia Tour Ι Luxury Cappadocia Tour from Istanbul Ι Luxury Discover Turkey Tour Package Ι Luxury Istanbul and Ephesus Tour Ι Luxury Istanbul and Bodrum Tour Ι Luxury Istanbul Ephesus Pamukkale Tour Ι Luxury Discover Turkey Tour Ι Luxury Istanbul Tour Package Ι Luxury Discover Istanbul Tour Ι Luxury Istanbul and Antalya Tour Ι Luxury Istanbul Tour Ι
Luxury Turkey Travel Services
Ι Luxury Turkey Travel Services Ι Luxury Airport Transfer in Turkey Ι Luxury Istanbul Chauffeured Car Service Ι Tour Guide in Turkey Ι Istanbul Helicopter Tour Service Ι Luxury Istanbul Yacht and Charter Service Ι Turkey Private Jet Flight Service Ι
Luxury Daily Turkey Tours
Ι Luxury Daily Turkey Tours Ι Luxury Istanbul Old City Tour Ι Luxury Istanbul Bosphorus Cruise Ι Luxury Princes Island Tour Ι Luxury Self Guided Tour Istanbul Ι Luxury Cappadocia Tour from Istanbul Ι Luxury Ephesus Tour from Istanbul Ι