Travel to Antalya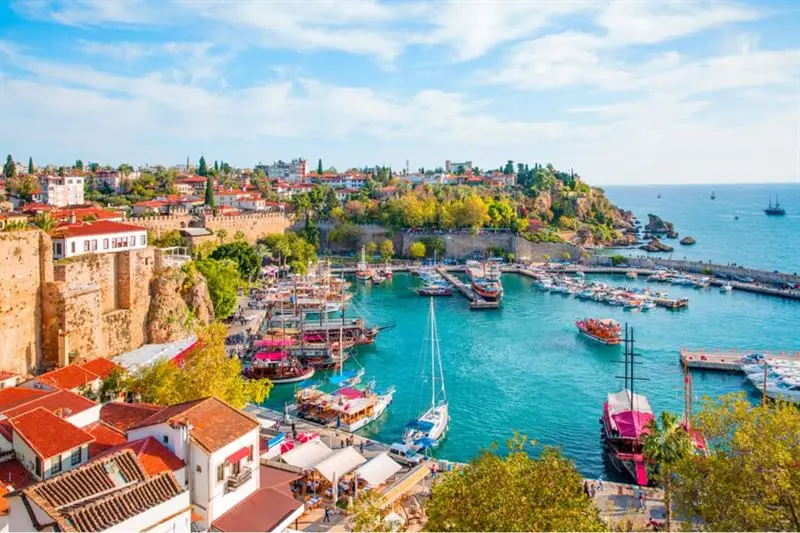 Historical Center of Antalya
Your trip to the Turkish Riviera will undoubtedly be one of the most memorable times of your life. The coastline is dotted with ancient cities that are sure to please history buffs, and you'll have plenty of company in the form of verdant forests, turquoise seas, and more. After a day spent swimming in Antalya's refreshing waters, you'll want to experience the city's vibrant nightlife by visiting its many restaurants and nightclubs.
Kaleici, the Historic District in Antalya
Antalya, Turkey, has been a popular tourist destination for decades, and for good reason: the city is packed with amazing things to do for people of all ages. Given its size, it's no surprise that this city is home to a plethora of exciting destinations. Kaleici is undeniably the beating heart of Antalya. Before you enter this coastal neighborhood, where the historical fabric has been preserved, you'll be greeted by the magnificent Hadrian's Gate. Approximately two thousand years ago, Roman Emperor Hadrian paid a visit to the city of Antalya, and in his honor, the city erected this magnificent gate in the shape of a giant host.
One of the ancient city walls' entrance doors, this structure is enchanting to anyone who passes beneath it. Once inside, you'll be transported back in time to ancient Kaleici, with its winding, walled streets. Following these roads will bring you to a marina located in a former Roman port. To get to the port, simply ride the elevator to the bottom.
Kaleici is a popular destination for families and couples, so it has a wide range of lodging options, from budget-friendly hostels to luxurious hotels in renovated mansions. Additionally, there are luxury five-star hotels in the area that are ideal for those seeking a more opulent experience while visiting Kaleici. In Kaleici, where you can find souvenir shops, mosques with remnants of the Seljuk and Ottoman empires, bay-windowed homes, pubs, and restaurants, it can be entertaining to follow the sounds of live music as the sun goes down.
The Antalya Archeology Museum, close to Kaleici, is one of the best museums in Turkey and a worthy recipient of numerous awards. The museum features a children's area in addition to numerous themed exhibits spanning from the Paleolithic to the Roman eras. The Heracles sarcophagus and the statue of a tired Heracles are two important pieces in the museum.
Antalya is waiting for you, with everything from cheap street food to five-star restaurants and quaint wine bars.
I find that eating my way through a city's cuisine is the best way to get to know its people and culture. Whether you're looking for affordable street food or fine dining at one of Antalya's well-respected establishments, you'll find it all here. You simply must try piyaz while in Antalya. You should try these flavors. By requesting egg-free piyaz bread, vegans and vegetarians can enjoy this flavor, which the Antalya masters have perfected.
Antalya is one of Turkey's most well-known urban centers, particularly for its wine industry. Some of the places that make delicious wines from Lycian grapes also double as places to stay. For those looking to unwind on vacation, Antalya's vineyards are calling out.
Antalya's Brilliant Blue Is Truly One-Of-A-Kind
There is no way to stay indifferent to the sea, sand, and sun that make up this city's natural splendors. Antalya is home to stunning beaches and waterfalls that can be visited instead of the city's boat tours.
As one of Antalya's most breathtaking sights, the Duden Waterfalls should not be missed at sunrise or sunset. You can escape the bustle of the city by having a picnic near the Lower Duden and Yukari Duden Waterfalls, both of which are conveniently located near the heart of town. Having access to pure air is beneficial as well. Postcard-perfect describes the scene at the base of the Lower Duden Waterfall, which cascades into the ocean.
Water parks and the Antalya Aquarium, the largest tunnel aquarium in the world, are great options for families on vacation. Lara Beach, also called Altinkum, has a wide sandy beach and fine sands, perfect for soaking up the Mediterranean sun. You can also have a great time at Konyaalti Beach, the most well-known beach in the city, which was awarded a Blue Flag and is composed of pebbles. Your decision, and only yours, is final.
Luxury Tours of Turkey
Ι Luxury Turkey Tour Package Ι Luxury Istanbul and Cappadocia Tour Ι Luxury Cappadocia Tour from Istanbul Ι Luxury Discover Turkey Tour Package Ι Luxury Istanbul and Ephesus Tour Ι Luxury Istanbul and Bodrum Tour Ι Luxury Istanbul Ephesus Pamukkale Tour Ι Luxury Discover Turkey Tour Ι Luxury Istanbul Tour Package Ι Luxury Discover Istanbul Tour Ι Luxury Istanbul and Antalya Tour Ι Luxury Istanbul Tour Ι
Luxury Turkey Travel Services
Ι Luxury Turkey Travel Services Ι Luxury Airport Transfer in Turkey Ι Luxury Istanbul Chauffeured Car Service Ι Tour Guide in Turkey Ι Istanbul Helicopter Tour Service Ι Luxury Istanbul Yacht and Charter Service Ι Turkey Private Jet Flight Service Ι
Luxury Daily Turkey Tours
Ι Luxury Daily Turkey Tours Ι Luxury Istanbul Old City Tour Ι Luxury Istanbul Bosphorus Cruise Ι Luxury Princes Island Tour Ι Luxury Self Guided Tour Istanbul Ι Luxury Cappadocia Tour from Istanbul Ι Luxury Ephesus Tour from Istanbul Ι