Top Things To Do In Istanbul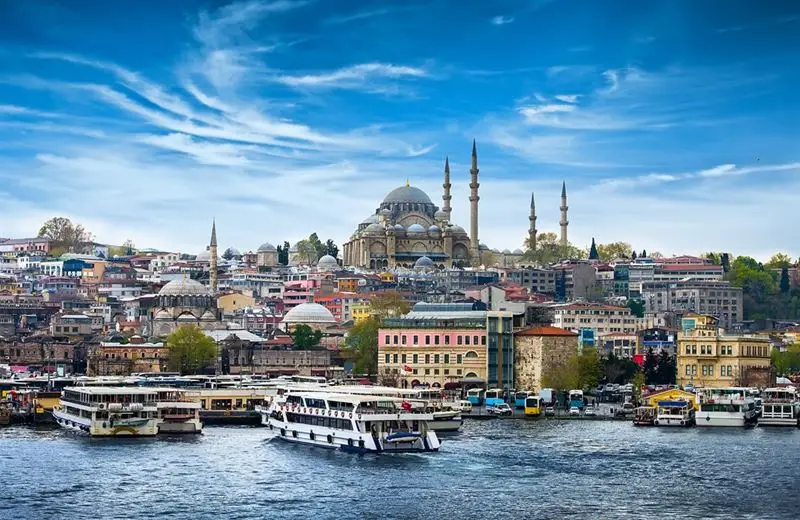 The Best 10 Attractions in Istanbul
In one of the world's oldest cities, are you prepared to embark on a journey? Various options exist, ranging from starter homes to opulent mansions. Let's move on to the best places to visit in Istanbul if you're ready to let your imagination run wild while taking in the cityscape. Let us all know right now that counting is not the end-all, be-all of entertainment in Istanbul.
Experience the History: Hagia Sophia
One of the most stunning attractions in Istanbul, the Ayasofya-i Kebîr Cami-i Serîfi (Hagia Sophia Grand Mosque), is waiting to enchant you. You're looking at a structure that has been around since 537! It's massive and beautiful on the outside, but the real wonder begins once you go inside. If you only have time for one attraction in Istanbul, make it this one. You will spend hours staring in awe at its miraculous interior.
Here is where you should go first if you want to experience authentic Byzantine culture and stand in a place where history will never fade away. Hagia Sophia's endless beauty will consume the majority of your time in Istanbul.
The moment you step inside this magnificent structure, one of Istanbul's must-sees, you'll know you made the right decision.
Visit Istanbul's Grand Bazaar to Shop for Spices, Carpets, Rugs, and Gold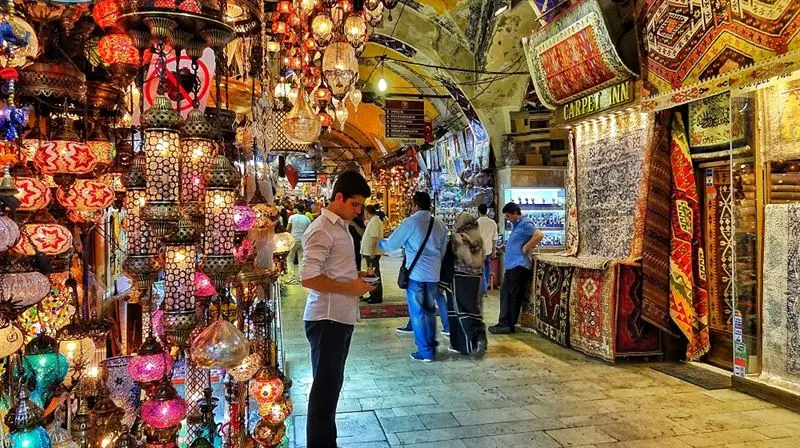 Plan your route to include a stop at an Istanbul bazaar for a taste of the Ottoman era. When people think of a market in Istanbul, the first thing that comes to mind is the Grand Bazaar, which is an invitation to a visual feast.
In Istanbul, Turkey, the Grand Bazaar is the best place to mingle with locals. Also, with over four thousand stores, Grand Bazaar is a fantastic option for retail therapy junkies. This may seem to complete out there, but it hits the nail on the head! You can either choose some gold jewelry for yourself or a carpet for the room in which you spend the most time. You might just find what you need right here!
Explore the Bosphorus and Chat With Some Gulls!
What do you think of first when I say "Istanbul tourist attractions"? The Bosphorus is the waterway that connects the two sides and is located at the intersection of blue and green. Everyone should take some time to enjoy this beautiful strait that joins the Anatolian and European continents. Take a boat tour or ride the ferry with the locals—the choice is yours. None of them are like the others; the thrills and adventures you'll have are entirely new each time!
Here's a little secret we've been keeping from you. Make sure to stop for a bagel before boarding the ferry, as eating simit and feeding seagulls is a must as soon as you arrive in Istanbul.
Dolmabahce Palace in Istanbul is an excellent introduction to the Ottoman Empire
Dolamabahce Palace in Istanbul is the last remaining Ottoman imperial signature. You'll fall in love with the interior and the view at this place that rises on the Bosphorus with hints of western architecture. During the Ottoman era, this stunning location was a port where navy ships anchored and maritime ceremonies were held. After that, it served as the sultan and his dynasty's royal garden. It follows that numerous remarkable Ottoman Period artifacts and photographs can be discovered.
In addition to its many Mustafa Kemal Atatürk-related exhibits, the palace also features:
Mustafa Kemal Atatürk delivered his first speech to the people of Istanbul in this palace. And here, in this palace, he took his last breath. So, for the locals, Dolmabahce Palace has a dramatic and dual meaning.
Try the Local Cuisine in Istanbul's Historic Karaköy District
Are you in need of rest? You can find them all in Karaköy's restaurants. It's safe to assume that tourists will be kept very busy while they sightsee in Istanbul. After you've explored Istanbul's lively streets to your heart's content, you'll want to find a quiet spot to relax and enjoy the evening's beautiful weather and tasty treats. Find a comfortable spot to sit and savor the evening's scenery and delectable fare. Karaköy is a great place to visit if you're a foodie because it offers a wide variety of cuisines, from classic Turkish to cutting-edge Depending on your mood, you can visit a modern pub with live music, a bohemian fish restaurant, a top-notch fine dining establishment, or a chic rooftop bar with a breathtaking panorama of the Bosphorus. It's up to you to decide!
Take a Tour of Topkapi Palace, the Ottoman Empire's Throne Room
You're standing in front of Topkapi Palace, the seat of the Ottoman sultanate government for the past four centuries. In terms of Istanbul's historical attractions, this is a must-see. From Mehmet the Conqueror on, all Ottoman sultans called Topkapi Palace their primary residence. It was also the cultural, artistic, and intellectual epicenter of the empire. The extraordinary interior architecture of the Baghdad and Revan Pavilions, made of Iznik tiles, is the must-see legacies. There is currently an exhibition there that showcases Ottoman weapons, jewelry, and artifacts, but the museum is more well-known for its tales than its displays. Topkapi Palace was once home to many sultans, important courtiers, and well-known concubines. That being said, if tourists are looking for a place to hear amazing tales about Istanbul, Topkapi Palace is without a doubt the place to go.
Galata Tower Is The Only Way To Fly
I was wondering if you were familiar with the life of Hezârfen Ahmed Celebi. According to Evliya Celebi's Seyâhatnâme (Travelogue), an acclaimed Ottoman travelogue, Hezârfen Celebi, who ascended the Galata Tower to grant our wishes, descended from the structure in 1632. and landed at Dogancilar in Üsküdar, which is 3,558 meters away after flying across the Bosphorus! It is still valuable to leave places you visit with an understanding of their stories, even if this one is based on legend. Therefore, ascend the tower to see Istanbul as it was originally intended to be seen.
Istanbul, like the world's other great metropolises, has its own love story, and it involves two towers. The Maiden's Tower and the Galata Tower Here, you can experience another emotional side of Istanbul. Despite the sentimentality of the story, a trip to Istanbul would be incomplete without experiencing the romance of the city.
Relax and Enjoy the City Views in Princes' Islands
The Princes Islands are another great tourist attraction in Istanbul. In that order, the most well-known are the Büyükada, Heybeliada, Burgazada, and Kinaliada. Visiting all of the charming islands scattered across the Marmara Sea will consume an entire day of your Istanbul vacation. Topkapi Palace and the Grand Bazaar of Istanbul (where local artisans will shout as loud as they can to get your attention), in contrast, are surrounded by peaceful silence on the islands. You can count on having a deeper connection to nature than ever before after a wonderful ferry ride. Do you agree that it's a good idea? Prince's Islands should be at the top of your "Istanbul Visiting Places" list if you're looking for a place to do some light bicycling, take in the sea views, and enjoy a picnic.
Visit the Basilica Cistern, a Place of Mystery
We warned you that it wouldn't be simple to exhaust all of Istanbul's tourist attractions. The Basilica Cistern, or "Yerebatan Sarnici," is another must-see architectural masterpiece in Istanbul. The interesting appearance of infinite columns inspired the neighborhood children to give this building its unique moniker.
Imagine meeting all of Istanbul's water needs from this one location. But the truth is that water has been flowing from this cistern to Istanbul for decades. As you make your way among the pillars, you'll also notice an overturned statue of the Gorgon Medusa. That's eerie and mystical all at once! The cool, underground air is perfect for avoiding the oppressive Istanbul summer.
The Archaeology Museum, Where You Can Visit Ancient Times
If you've already visited the Ottoman era at Topkapi and Dolmabahce Palaces, you should consider visiting the classical era! About a million artifacts from different cultures were brought to the Istanbul Archaeological Museum from the imperial lands. Taking a quick historical tour of this area should be high on your list of things to do in Istanbul. We recommend you make the most of your time in Istanbul and go as soon as this attraction opens; otherwise, you'll waste an entire day there.
Luxury Tours of Turkey
Ι Luxury Turkey Tour Package Ι Luxury Istanbul and Cappadocia Tour Ι Luxury Cappadocia Tour from Istanbul Ι Luxury Discover Turkey Tour Package Ι Luxury Istanbul and Ephesus Tour Ι Luxury Istanbul and Bodrum Tour Ι Luxury Istanbul Ephesus Pamukkale Tour Ι Luxury Discover Turkey Tour Ι Luxury Istanbul Tour Package Ι Luxury Discover Istanbul Tour Ι Luxury Istanbul and Antalya Tour Ι Luxury Istanbul Tour Ι
Luxury Turkey Travel Services
Ι Luxury Turkey Travel Services Ι Luxury Airport Transfer in Turkey Ι Luxury Istanbul Chauffeured Car Service Ι Tour Guide in Turkey Ι Istanbul Helicopter Tour Service Ι Luxury Istanbul Yacht and Charter Service Ι Turkey Private Jet Flight Service Ι
Luxury Daily Turkey Tours
Ι Luxury Daily Turkey Tours Ι Luxury Istanbul Old City Tour Ι Luxury Istanbul Bosphorus Cruise Ι Luxury Princes Island Tour Ι Luxury Self Guided Tour Istanbul Ι Luxury Cappadocia Tour from Istanbul Ι Luxury Ephesus Tour from Istanbul Ι