Vibes In Cappadocia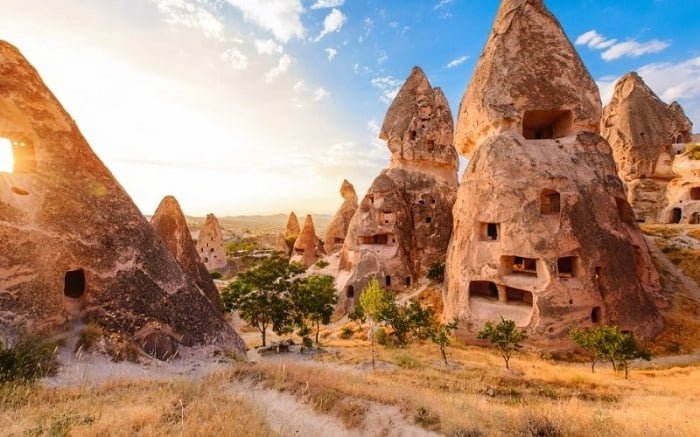 Adopt the Lifestyle of the Cappadocians
Cave lodging is one of Cappadocia's most distinctive offerings, and visitors should take advantage of this opportunity while exploring the region's many natural wonders. Staying in one of Cappadocia's famous "cave hotels" is a once-in-a-lifetime opportunity. To attract tourists, some of the troglodyte caves in the area have been renovated into five-star hotels. These hotels are a great way to experience the area's distinctive architecture while still enjoying all the conveniences of a modern stay.
As the sun rises over Cappadocia, you'll be treated to a breathtaking panorama of fairy chimneys, the perfect backdrop for breakfast. As the sun comes up, it's nice to take in the scenery while enjoying a hearty breakfast. Olives, cheese, eggs, tomatoes, cucumbers, peppers, Turkish sausage (sucuk), jams, honey, butter, and cream are just some of the staples that make up a hearty Turkish breakfast. After a hearty breakfast, you'll set off to explore the rural areas of Cappadocia.
Cappadocia Hot-Air Balloon
Taking in the sights from above in a hot air balloon, you'll feel completely at ease as you float through the air during morning breaks. Subterranean rock formations that have been around for millions of years, as well as unfathomable landforms that are only found in this area, lie in wait. mountain ranges that paint a tapestry of colors on the landscape below, velvety-textured slopes, and majestic valleys Over the past 20 years, hot air ballooning has become increasingly popular in the land of fairy chimneys, and the region's intoxicating morning cruises have drawn visitors from all over the world. At sunrise, the trails around Goreme fill with people eager to see the balloons take off in their quest to reach altitudes of up to 800 meters.
No visit to the Cappadocia region would be complete without sampling some of the region's world-renowned wines. The tuff created by volcanic activities is responsible for the region's famed vineyards, which have a history dating back thousands of years. Thanks to the fertile tuff soil, grapes native to Anatolia flourish, including Okuzgozu, Kalecik Karas, Bogazkere, Narince, and Emir. I promise things will improve! The wineries of Cappadocia welcome visitors year-round. This makes a trip to the region convenient at any time.
The Streets (Avanos, Mustafapasa, Urgup, Goreme); A Stroll Along the Waterfront The streets of Cappadocia will captivate anyone with an interest in the region's history, religion, arts, architecture, or unique way of life. Goreme's streets will take you to the world-famous Goreme Open-Air Museum and the Valleys of Love, Guvercinlik (Pigeons), Zemi, Pasabag, Gulludere, Kiliclar, and so on. Mustafapasa's and Sinasos' streets will captivate you with their interesting architecture, churches, and madrasahs coexisting.
Cappadocia Cuisine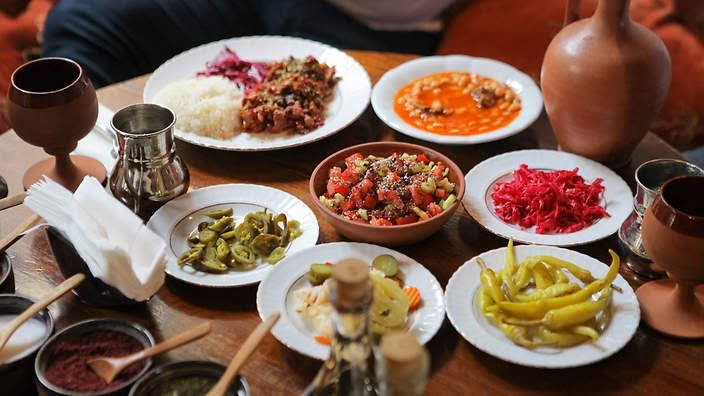 Cappadocia is home to a diverse and flavorful cuisine, so why not try some of it for lunch? Beans and kebabs cooked in a clay pot are a regional specialty. The kebab cooked in a clay pot is a novel idea. Because it contains meat and a variety of vegetables, it is also nutritious and tasty. Traditional ovens are used to cook food very slowly. That's why they smell and taste smoky.
Cappadocia is home to a wide variety of delicious cuisines, including stuffed apricots and quinces with minced meat and various spices! Soganlama with onion, egg, pepper, and tomato; Agpakla with white beans, butter, and meat; Gendirme with chickpeas, wheat, and meat; and with potatoes and cracked wheat. For those with a sweet tooth, Nevsehir has pumpkin dessert, Koftur (a type of Turkish delight made with grape juice from the area), Dolaz (flour halva with butter), grape molasses, and more.
Seeing Cappadocia from atop a horse is a fantastic way to get to know the region. Riding a horse provides a unique vantage point from which to take in the breathtaking scenery. Numerous horseback riding excursions are offered every day. Multi-day tours of Cappadocia are also available, as are nighttime rides under the full moon. In some parts of the valley, only foot traffic is allowed, so riding a horse is the best way to get around mystical spires and through verdant vineyards in quaint little towns. You'll visit some of Cappadocia's most stunning valleys, including Meskendir and Gulludere.
Trekking and Hiking in Cappadocia
Trekking/Hiking Cappadocia is also a hiker's paradise. Cappadocia hiking is one of a kind, with some of the most otherworldly landscapes anywhere in the world. Several popular trails take a few hours and make you feel like a time traveler and an adventurer as they take you past historic churches, necropolises, beautiful nature, and more. Some of these trails include the Valley of the Pigeons near Goreme, the Love Valley, the Rose Valley, and the Sword Valley. The Ihlara Valley Trail is a 14-kilometer-long trail that you can walk.
Handcrafted Ceramics: The town of Avanos, just 18 kilometers from Nevsehir, has maintained a pottery-making culture that dates back to the time of the Hittites. Stop by a mechanic's shop and take a seat behind the wheel if you're interested in giving it a go. The outcome will depend on your ingenuity and how well you can work with your hands. Skilled potters in the area will cheer you on and provide advice if you ask for it.
Remember to take home a memento of your visit in the form of one or more pieces of the craftsmen's work.
One of the best ways to wind down the day is by taking in the stunning sunset from the castle of Ortahisar. As a castle and a fairy chimney, Ortahisar is the perfect addition to Cappadocia. After-dark sightseeing is a treat here. The region's breeze and peace both hit you at once.
Tours in Cappadocia
Ι Luxury Turkey Tour Package Ι Luxury Istanbul and Cappadocia Tour Ι
Ι Luxury Cappadocia Tour from Istanbul Ι
Attractions in Cappadocia
Ι Cappadocia Ι Cavusin Ι
Ι Uchisar Castle Ι Kaymakli Underground City Ι Pigeon Valley Ι
Ι Goreme Open Air Museum Ι Avanos Ι Red and Rose Valley Ι